Startup Wizard
Once PagePlus has been installed, you're ready to start. Setup adds the program to your Windows Start menu.
Use the Windows Start button to pop up the Start Menu, click on All Programs, and then click the Serif PagePlus X5 item (or if PagePlus is already running, choose New>New from Startup Wizard… from the File menu).
On program launch, the Startup Wizard is displayed which offers different routes into PagePlus: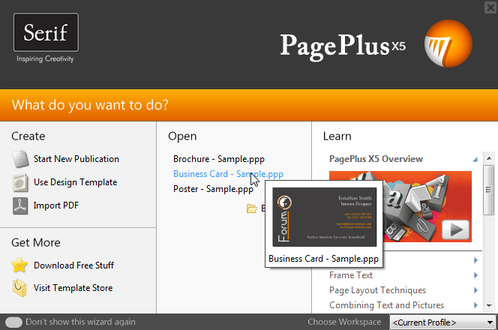 Start New Publication, to open a blank page to work on.
Use Design Template, to create an instant document from a pre-designed template.

Import PDF, to create a publication from an existing PDF.

Get More, to access a range of free resources and design templates (purchasable).

Open, to access recently opened publications. Hover over each entry for a quick preview!

Learn, to access online tutorial resources (web and video).
Use the Choose Workspace drop-down menu to choose your workspace appearance (i.e., Studio tab positions, tab sizes, and show/hide tab status). You can adopt the default workspace profile <Default Profile>, the last used profile <Current Profile>, a range of profile presets, or a workspace profile you have previously saved.
As you select different profiles from the menu, your workspace will preview each tab layout in turn.
The Startup Wizard is displayed by default when you launch PagePlus. If you don't want to use the Startup Wizard again, check the "Don't show this wizard again" box. You can switch it on again via the Use startup wizard check box in Tools>Options… (use Options>General menu option).
You can also access the Startup Wizard at any time from New>New from Startup Wizard… on the File menu.
Startup Wizard